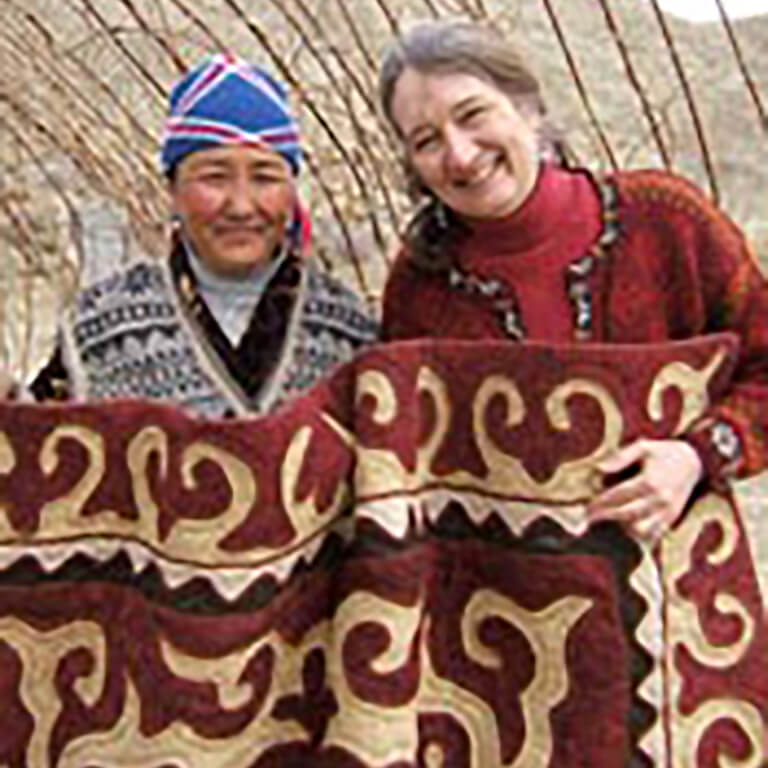 Phone:

(812) 855-2563

Email:

apyburn@indiana.edu
Department:

Affiliated Faculty

Campus:

IU Bloomington
Student Building 130

Education
Ph.D., Anthropology, University of Arizona, Tucson, 1988
M.A., Anthropology, University of Arizona, Tucson, 1984
B.A., Anthropology, Reed College, Portland, Oregon, 1977
Geographical areas of specialization
Mesoamerica; Belize; Central Asia; Kyrgyzstan
Research Interests
archaeology; settlement patterns; Maya, gender, ethics; archaeology and social context
About Anne Pyburn
Most of my primary research has taken place in Belize, where I have directed major excavations and general mapping and reconnaissance in the remains of three ancient Maya cities. The focus of my research in Belize has been on understanding and reconstructing very large systems of human organization that developed before the modern world system, for which the Maya provide a crucial example as one of the few places in the world where urbanism developed independently. When I was in graduate school, these were called early states or complex societies. My investigations have led me to believe that such terms are teleological; they served the purpose of introducing early scholars to interesting foci of comparison between cultures, but have reached the end of their usefulness and now impede our ability to perceive ways of life not derived from the model. The narrowness of this view channeled investigation into the reification of "rises" and "collapses," models of such oversimplification that they are impossible to disprove. So while my primary research continues to document dramatic organizational variation and invention, impressive technological changes and volatile political economy, I see these processes as historical rather than as developmental.
As scientists archaeologists need to be aware of the sociopolitical agendas we contribute to with our research and be braver about addressing the issues we really believe in. I believe archaeologists are best prepared to face the political present as teachers with ideas and information based on our study of the past that are relevant to policy decisions. We are not qualified to make those decisions or to dictate the future, but knowledge is power and we can use it to make a difference. For example, might an uncritical focus on the power of elites and the glory of kings reinforce a worldview among our admirers and students that we don't actually believe in or want to promote? Might the perpetuation of a model that organizes world cultures into an historical trajectory that evolves naturally to become a hierarchical state reflect more of the political present that it teaches about the past? Is it really either scientific or desirable to provide this uncritical validation for the status quo? Once you get started it's easy to come up with similar questions about they way we approach gender, labor, technology and other facets of past societies. Are we asking questions in such a way that the ascendancy of a particular sort of political economy is always confirmed?
I approach teaching as a scholarly activity. Understanding the needs of students and the success of classroom strategies requires ethnographic research that falls within the purview of anthropology. I teach undergraduates in a general College of Arts and Sciences topics course, in archaeological research methods, in archaeological ethics and in archaeological approaches to understanding the cultures of ancient Mesoamerica. All my classes involve hands-on learning and exposure to data collection and analysis, but this teaching emphasis culminates in the archaeology field program I run in Belize every other year. My passion for raising the standards of critical thinking among college students in the United States has resulted in the NSF funded MATRIX project aimed at improving archaeology education at the national level. My commitment to developing a more engaged discipline has resulted in my collaboration on a textbook with Rosemary Joyce, my contribution to the creation of a new graduate program in Archaeology and Social Context at IU, and my willingness to mentor graduate students pursuing a variety of research interests.
My graduate classes cover archaeological methods, ethics, Maya, gender and a variety of topical courses, such as Archaeology Heritage and Violence, Maya Archaeology in the Political Present, and Material Culture. I have a lively bunch of graduate students planning or finishing research in Belize, Egypt, Canada, Germany, Ireland, Mexico, Africa, and Minnesota.
Ethics Committee, American Anthropological Association (2001-2003) (elected, chair elect for 2004)
Associate Editor for Book Reviews, Latin American Antiquity (2002-2004)
Committee on Archaeology in Higher Education, Archaeological Institute of America (2000-2003)
Wiseman Book Award Committee, Archaeological Institute of America (2003-2004)
World Archaeological Congress Theme: Interpreting Archaeology (2003)
Selected Publications
2004 Ungendering Civilization: Reinterpreting the Archaeological Record , K. A. Pyburn, ed. (Routledge) scheduled for publication in February of 2004
2004 with C.H. Andres Out of Sight: The Postclassic and Early Colonial Periods at Chau Hiix. Chapter for The Terminal Classic in the Maya Lowlands : Collapse, Transition, and Transformation . Arthur Demarest, Don Rice and Prudence Rice, eds., Westview.