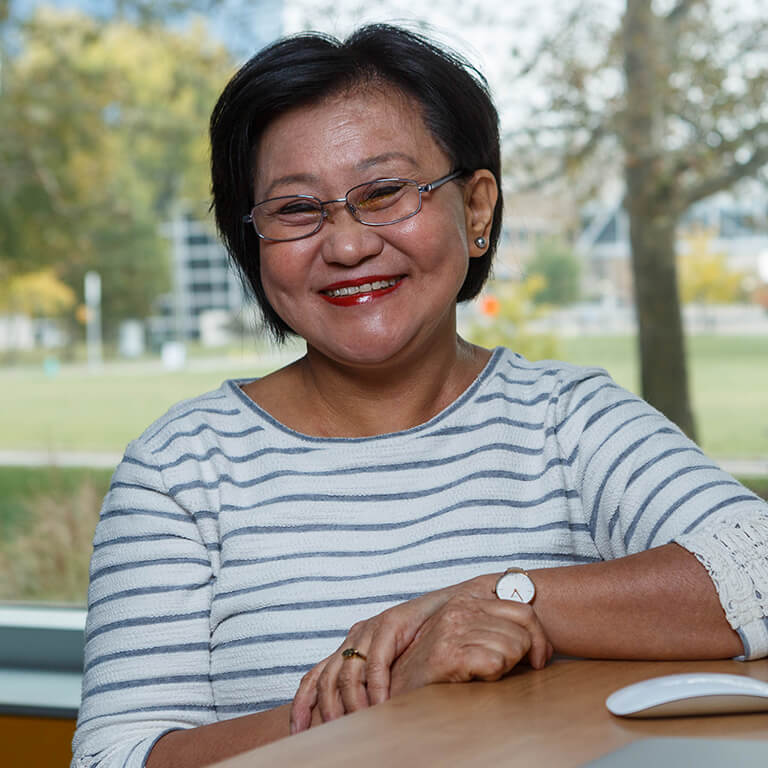 Phone:

(317) 278-2830

Email:

utsultem@iu.edu
Campus:

IUPUI
Dr. Tsultem is the scholar of Mongolian art and culture whose research focuses mainly on Buddhist art and architecture and contemporary Asian art. Dr. Tsultem received her Ph.D. in East Asian and Himalayan art history from University of California, Berkeley, where she also taught and served as co-chair of the Mongolia Initiative Program at the Institute of East Asian Studies. She also taught at National University of Mongolia as Associate Professor, Yonsei University in South Korea, and University of Iceland. She is a recipient of a few prestigious fellowships, which were awarded, among others, by Library of Congress (2013) and American Council of Learned Societies (2014-2016). Dr. Tsultem's research and publications include topics on ancient stone monuments in Mongolian steppes, a thirteenth-century Chinggis Khan's portrait at National Palace Museum in Taiwan, a nineteenth-century mobile monastery Urga (Ikh Khüree), art of 1960s in Mongolia and contemporary Asian artists' relationship to their art traditions. Dr. Tsultem has a long curatorial career exhibiting Mongolian art internationally since 1997.
She is an active scholar with six books published in Mongolia and her monograph is forthcoming in December 2020 from Hawaii University Press. See about this new book here: https://uhpress.hawaii.edu/title/a-monastery-on-the-move-art-and-politics-in-later-buddhist-mongolia/
Selected Publications
Books
A Monastery on the Move: Art and Politics in Later Buddhist Mongolia. (Honolulu: Hawaii University Press, December 2020).
Primary Documents of Mongolian Art Associations. in Mongolian. (Ulaanbaatar: BCI Publishing, 2018).
Selected Papers On Themes of Mongolian Art History, 1993-2018. in Mongolian. (Ulaanbaatar: Admon Print, 2018).
Ikh Khüree and the Later Buddhist Art of Mongolia. in Mongolian. (Ulaanbaatar: BCI Publishing, 2016). 
Articles, Edited Volumes and Book Chapters
Uranchimeg Tsultemin ed., Buddhist Art of Mongolia: Cross-Cultural Connections, Discoveries and Interpretations. Special Issue. Cross-Currents: East Asian History and Culture Review, Special Issue. Berkeley: Institute of East Asian Studies (online edition) and Honolulu: Hawaii University Press, 2019 (print edition).
"Internal Regulations of Gandan Monastery" in Vesna Wallace ed., Sources of Mongolian Buddhism (Oxford: Oxford University Press, 2019), Ch. 21, pp. 436-450.
"Carving and Sculpture" in Haruhiko Fujita ed., Encyclopedia of Asian Design, vol. 2, "Mongolia" section. (London: Bloomsbury Visual Arts, 2019), pp. 488-491.
"Mugi's Self-Portrait and Maternal Bodies in Post-Socialist Mongolia." Third Text: Critical Perspectives on Contemporary Art and Culture. Oxford, UK: Routledge, Vol. 33, issue 1, January 2019, pp. 79-104.
"A Case of Allegoresis: A Buddhist Painter and His Patron in Mongolia" Artibus Asiae, Zürich: Museum Rietberg, Switzerland, Vol.78, Issue 1 (2018), pp. 61-94.
"Mongolian Art and the Dilemma of Himalayan Affiliation" Journal of South Asian Studies, Taylor&Francis: British Association of South Asian Studies, Vol. 34, no 2, December, 2018: 137-153.
"Political Ecology in Baatarzorig's Art: Mongolia Is in Business" in Hermione Spriggs and Rebecca Empson eds., Five Heads (Tavan Tolgoi): Art, Anthropology and Mongol Futurism (Berlin: Sternberg Press, 2018), pp. 105-119.
"Tradition and Transition: Mongolian Artists at the Venice Biennale" in Orientations, vol. 46/6, September 2015, Hong Kong, pp. 97-103.
"Thangka in the Library of Congress: Art for Independence and International Politics in Inner Asia in the early 20th century" in David Bade ed., Mongolian Studies: A Festschrift for Wayne Richter (Special Issue). Bloomington: Indiana University Press, vol. 35/2013, pp. 63-95.
"Other Home" the catalog of the Mongolia Pavilion at the 56th Venice Biennale, Italy, 2015. (Ulaanbaatar: Mongolian Contemporary Art Association).
"Women Artists of Mongolia" in Raiji Kuroda ed., Women Artists of Asia (Fukuoka: Fukuoka Asian Art Museum, Japan, 2012), pp. 208-215.
"Modernity and Tradition in Mongolian Contemporary Art" in Annu Wilenius ed., BareHouse: Pori-Rotterdam-Ulaanbaatar (Pori Art Museum, Finland, 2011), pp. 142-156. 
Courses Taught
Art of the Past Two Decades
Identity and Politics in Contemporary Asian Art
Introduction to Arts of East Asia
Art and Culture of Mongolia
Interpreting Art and its History
Awards (selections)
IAHI Summer Academy Fellowship, IUPUI, 2020
American Council of Learned Societies/Robert Ho Foundation Collaborative Research Award, 2014-2016
John W. Kluge Fellowship, Library of Congress, Washington, D.C., 2012-2013
Khyentse Foundation Fellowship, San Francisco, 2012-2014
Curated Exhibitions (selections)
Invited Curator, Mongol Zurag: The Art of Everyday," SAPAR Contemporary, NYC, 2019
Curator, "Reincarnation," in Personal Structures, 56th Venice Biennale, 2015
Invited Curator, Mongolia Pavilion, Venice Biennale, 2015
Invited Curator, Ulaanbaatar City Pavilion, 9th Shanghai Biennale, Museum of Contemporary Art, Shanghai, China, 2012
Invited Nominator for the Sovereign Asian Art Prize, Sovereign Art Foundation, Hong Kong, 2010-present
Invited Nominator for Signature Art Prize, Singapore Art Museum, 2008-present