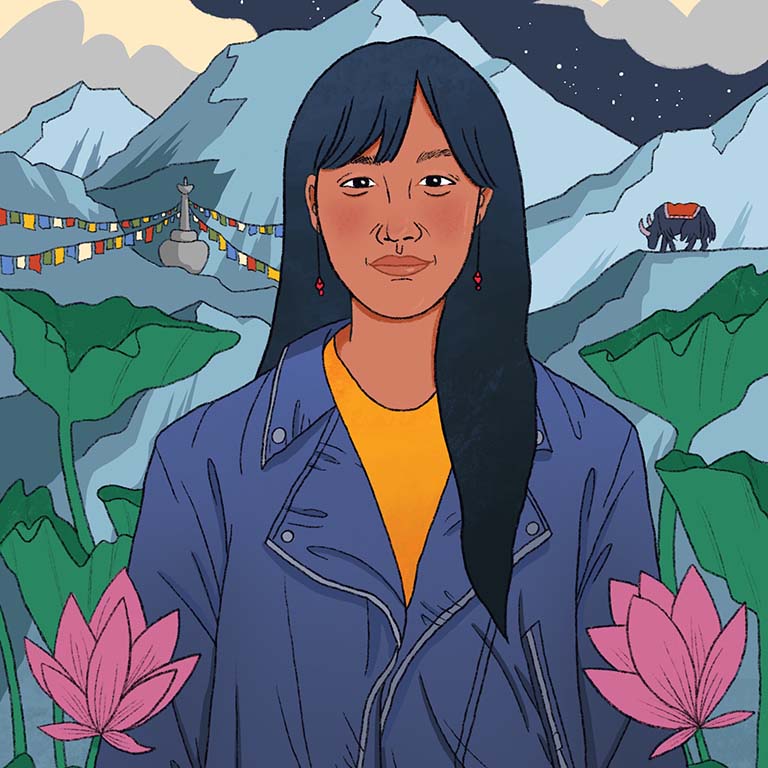 Phone:

(812) 855-0019

Email:

ewashul@iu.edu
Global and International Studies Building, 3014

Adjunct Affiliations
Adjunct Assistant Professor, Department of Anthropology
Education
Ph.D., Indiana University (CEUS and Anthropology)
M.A., Indiana University (Anthropology)
M.A., Columbia University (International Affairs, East Asian Studies)
B.A., University of Colorado, Boulder (Anthropology and Asian Studies) 
Research Interests
Eveline Washul is Assistant Professor of Tibetan Studies in the Department of Central Eurasian Studies at Indiana University and Adjunct Assistant Professor in the Department of Anthropology. Prior to joining IU, she was the Director of the Modern Tibetan Studies Program at Columbia University. Her current book project combines ethnography with Tibetan historical sources from the 12th to 20th centuries to study the particularities of Tibetan relationships to places and how these shape the transition from rural to urban livelihoods in the late-socialist reform period in the People's Republic of China.
Courses Recently Taught
CEUS-R 370/570, HIST-C 300: Introduction to the History of Tibet
CEUS-R 374/579/670, ANTH-E 300/600: Contemporary Tibet
CEUS-R 270: Civilization of Tibet
CEUS-R 372/572: Sino-Tibetan Relations
Publication Highlights
Washul, Eveline. 2022. "Amdo: Social Landscapes and Change." In Michael Heneise and Jelle Wouters, eds. The Routledge Handbook of Contemporary Highland Asia. London: Routledge.
"Introduction." 2021. Waxing Moon: A Journal of Tibetan and Himalayan Studies, Issue 1.
"Tibetan Translocalities: Navigating Urban Opportunities and New Ways of Belonging in Tibetan Pastoral Communities in China." Critical Asian Studies 50(4): 493-517.
"Tracing the Chol kha gsum: Reexamining a Sa skya-Yuan Period Administrative Geography." In "Ancient Currents, New Traditions: Papers Presented at the Fourth International Seminar of Young Tibetologists," Franz Xaver Erhard et al., eds. Revue d'Etudes Tibétaines, 37: 550–67.